ASUS Zenfone 2 Intel Atom Smartphone (ZE551ML) Review
ASUS Zenfone 2 is an Intel Atom powered smartphone which supports 4G LTE, Dual SIM, and 5.5″ IPS display screen.
There are several "groups" of variants, notably the lower-end ZE550ML variants with 720p display and ZE551ML variants with 1080p display. I said "groups" because ZE550ML group has variants having 16 GB and 32 GB of storage, and ZE551ML group has variants having 2 GB and 4 GB of RAM, and 32 GB and 64 GB of storage, and 1.8 GHz and 2.3 GHz CPU. Mine is a ZE551ML with 1080p display, 2.3 GHz CPU, 4 GB RAM, and 32 GB storage.
My Story
Actually I never planned to buy a new smartphone, at least not so soon. But since my previous Samsung Galaxy Note 2 suddenly stopped working, unfortunately I had to find a replacement quickly and after a light research, I decided to buy an ASUS Zenfone 2. So I went to Bandung Electronic Center (BEC) last week.
Actually I wanted to but the lowest-end ZE550ML with 720p display, 2 GB RAM, 16 GB storage, which would be priced around IDR 3,000,000 which is already expensive for me. But then I thought that the ZE551ML with 1080p display, 2 GB RAM, and 32 GB storage priced at IDR 3,300,000 would be a better price-per-value, I get better display (which means less battery hehe) with also more storage. But then I thought that I had a 2 GB RAM phone before and it got sluggish after a year of usage or so, so I guess it's "OK" to buy a 4 GB RAM phone this time with a price of around IDR 3.200.000 for the 1.8 GHz, 32 GB storage, and "distributor warranty" version.
After a bit of windowshopping, some stores didn't have exactly the variant I was looking for, or had it but not the color I want. All stores only sell the silver and red variant. I almost settled on the 4GB/32GB/2.3GHz/distributor-warranty version priced at IDR 3,300,000 but then the storekeeper said they had the wrong price and it's actually IDR 3,350,000 so I was upset and then I found another store which sold the Red/4GB/32GB/2.3GHz/official-warranty version at IDR 3,250,000 which I purchased. The official warranty is from Metrodata. I'm quite happy, although this is a very expensive phone for me, it's still cheaper than when I bought my Samsung Galaxy Note 2 phone last year in used condition for IDR 4.300.000! :p
Looks
Phone looks great and feels great, especially on red color.
Front looks with display on and off: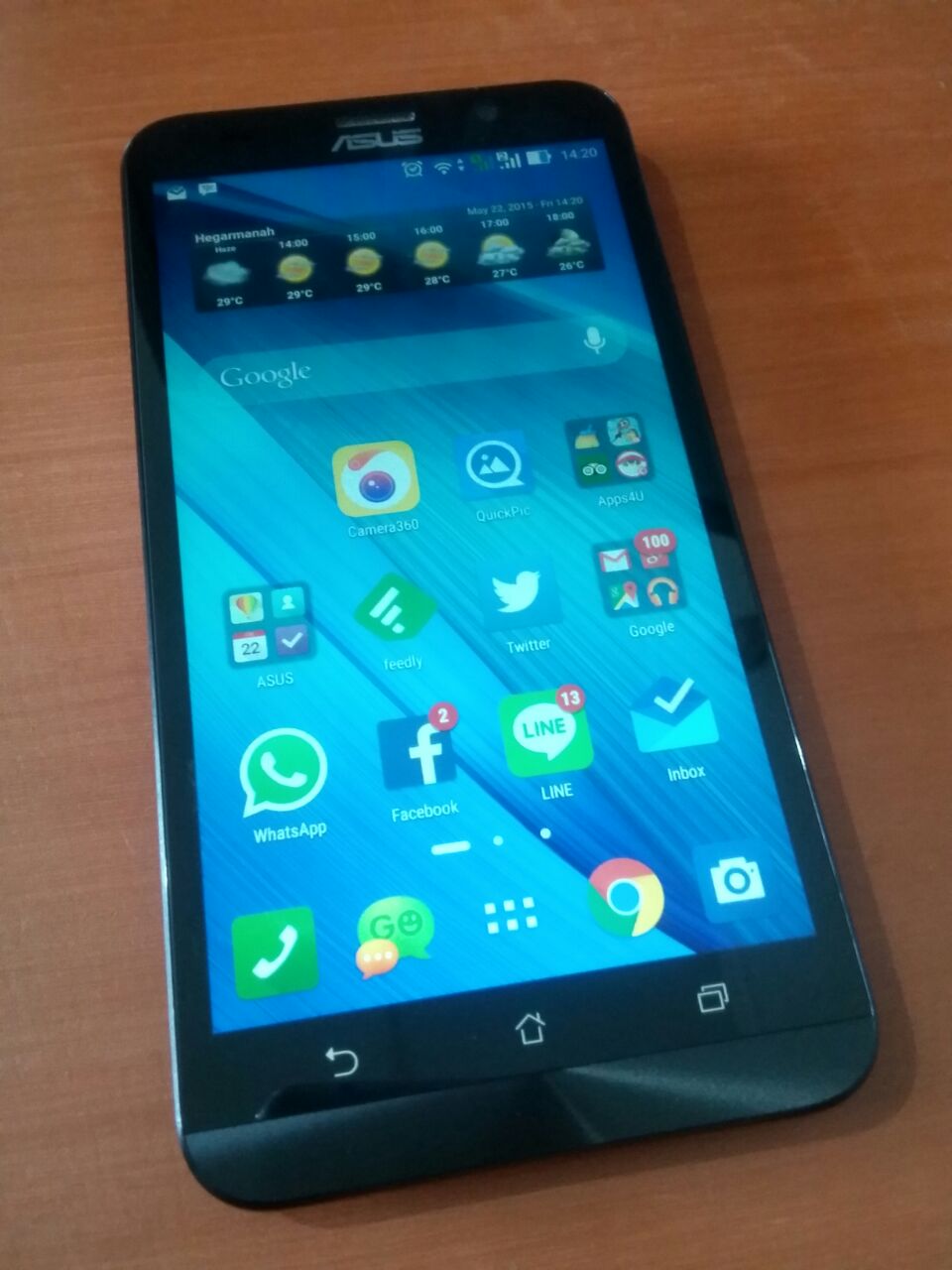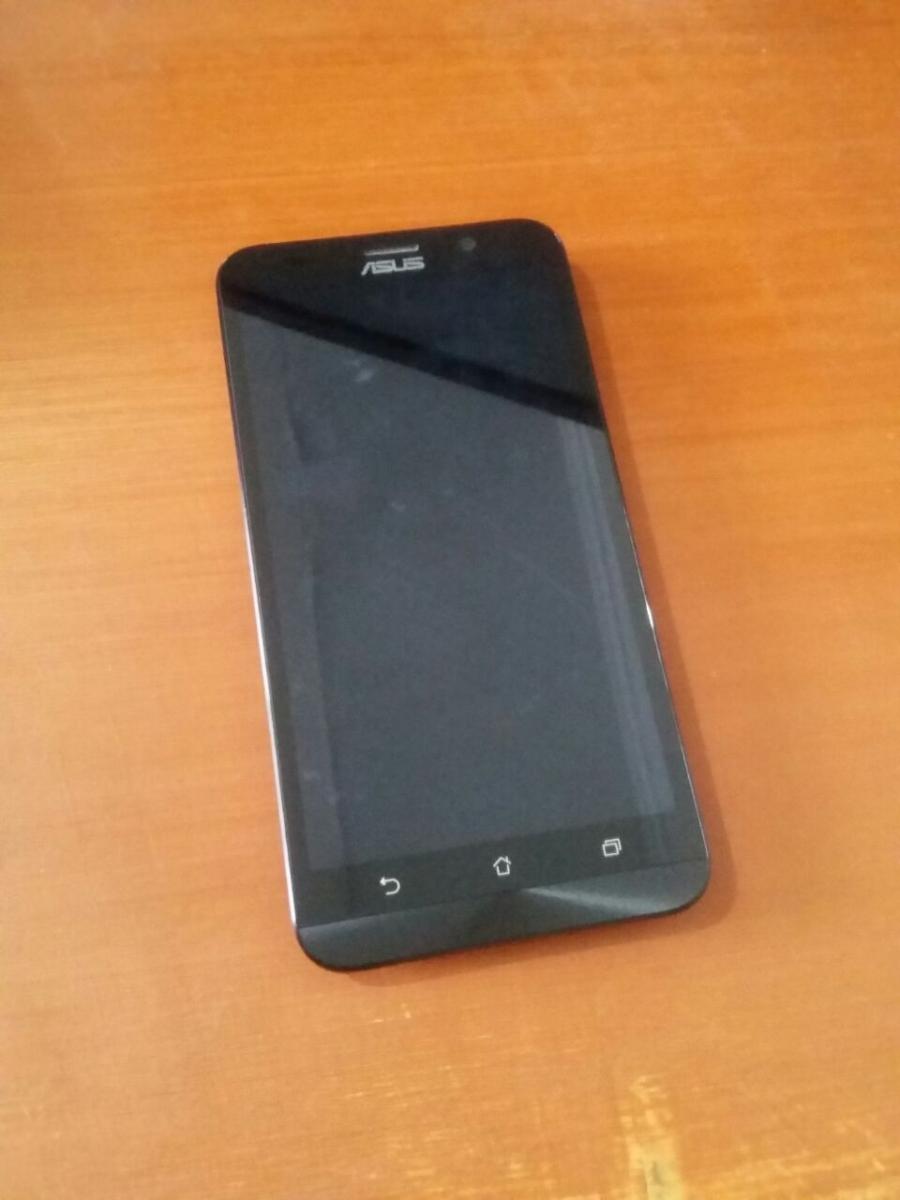 Looks great on back, with LED flash, F2.0 13 MP camera, and volume buttons: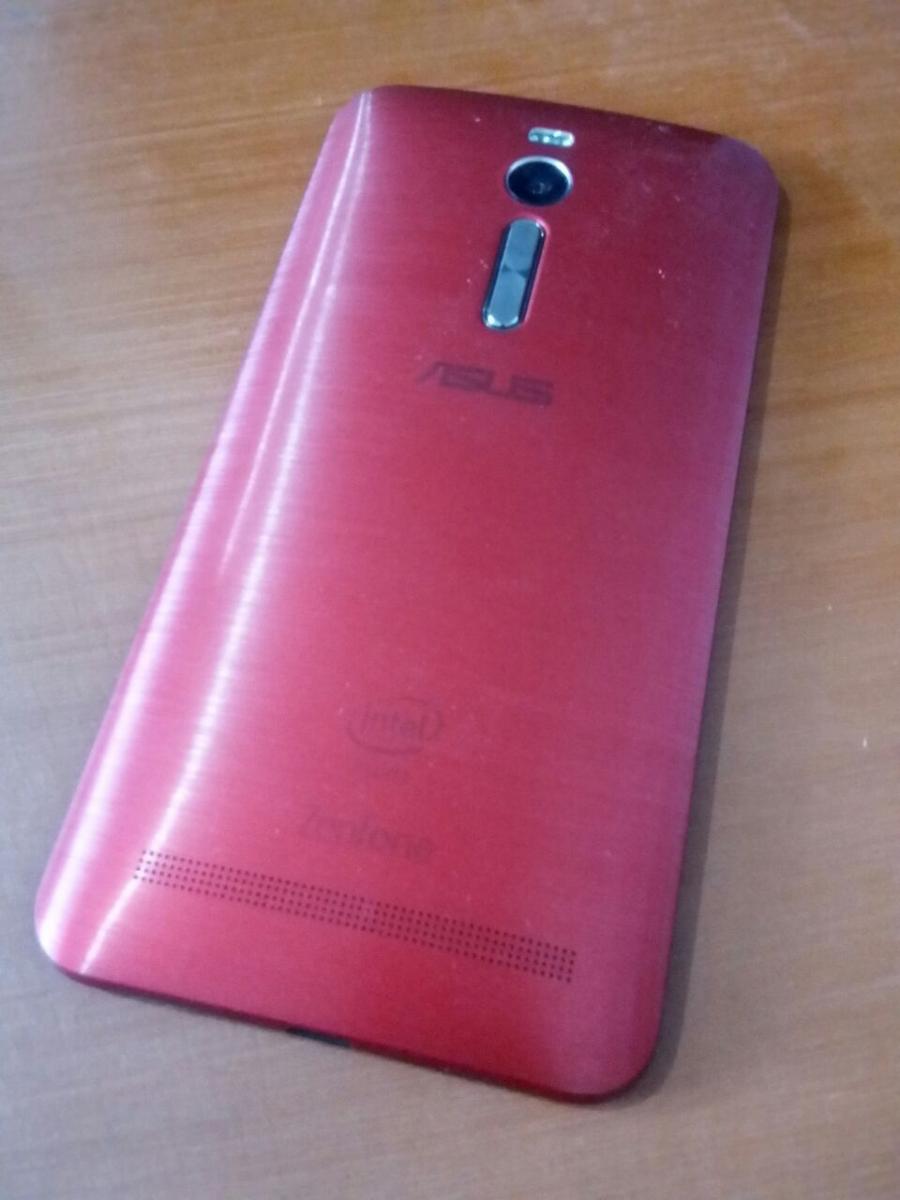 Bottom is for microUSB port and microphone: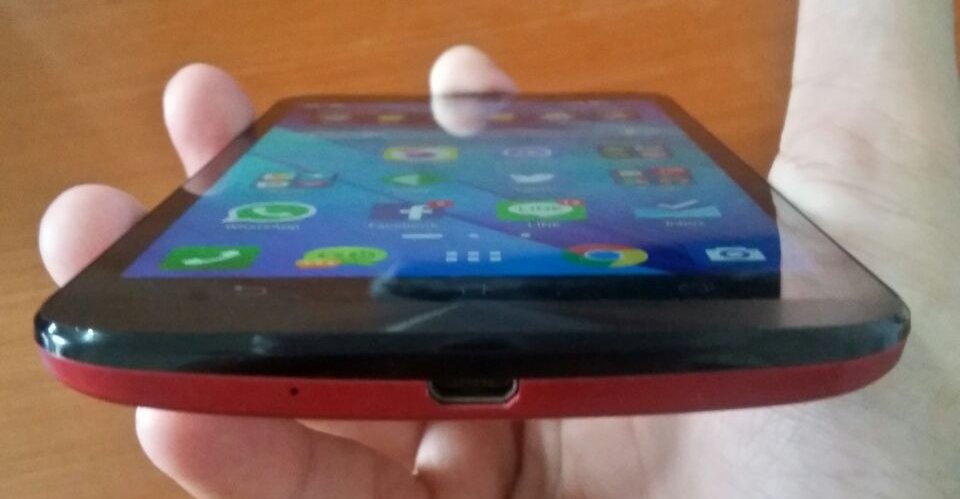 Top is for power button and 3.5mm headset jack: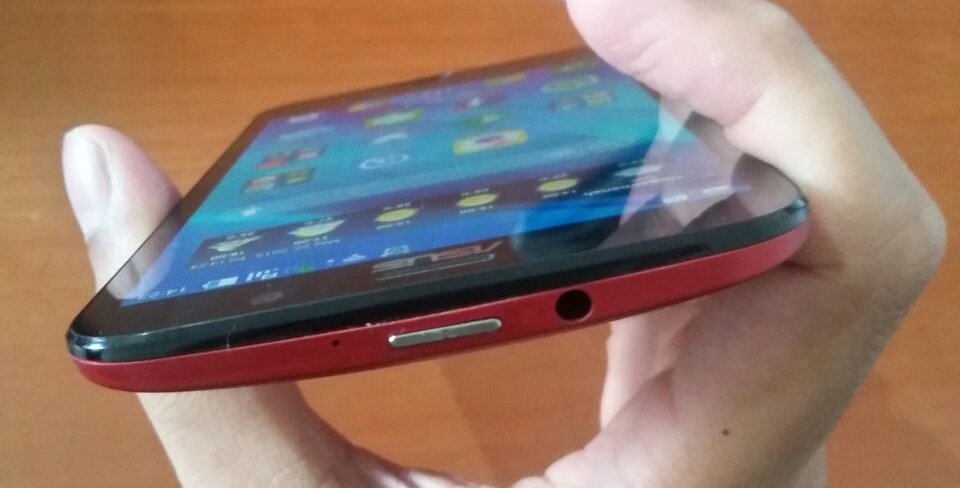 Sides dont' have any buttons at all:


My problem with the back design is that it is too rounded, so if I put the phone on back, it will wiggle because the back side is rounded and not flat.
Specifications & Performance
ZE551ML with 4 GB RAM is the flagship ASUS Zenfone 2 phone. It has Intel Atom Z3580 2.3 GHz processor, 4 GB RAM, Android 5.0 Lollipop with ZenUI, 1080p Full HD display in 5.5″ IPS screen, and 13 megapixel camera. I chose the slightly lower 32 GB storage variant, the highest is 64 GB storage.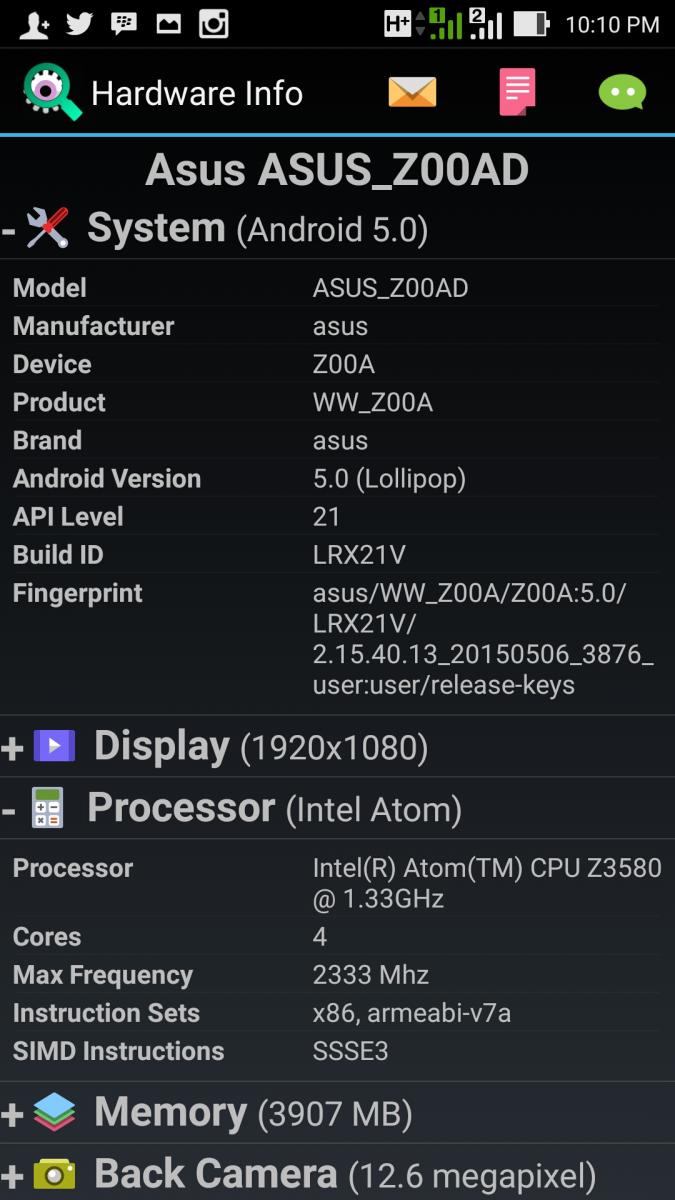 After I installed all my applications, in most cases the phone performs "quite good". Why I said that is because my expectations are actually higher. This is a flagship 4 GB RAM phone with the latest quad-core Intel Atom processor, I don't accept any sluggishness. It's by no means sluggish, but there are a few times where it does stutter a bit, even while playing music it can stop the music for a few milliseconds, which is quite annoying. Camera processing is also not instantaneous, especially when I turn on Beautification or any other effect. Adobe Photoshop is the worst offender, applying an effect can take 5-10 seconds. That said, other phones with lower specs are definitely worse, hehe 😉
The performance takes a hit when (rapid) charging, because the phone becomes hot. During charging it's not convenient to use the phone, due to hotness and also because the phone runs slower.
Battery and (Hot?) Temperature
Battery is 3,000 mAh and my verdict is… so-so. It lasts around 9 hours with my moderate usage (no video playing, just social media, chatting and browsing) with screen brightness to lowest-auto. I'm quite worried because this is a 1-week old phone. Within 1 year of usage I expect that I will have to disable many background apps to make it survive longer.
Battery screen gives estimated time left, I don't really trust it. :-p Especially after 30% it drops faster than above 30%. But below 20% ZenUI will ask if you want to go Ultra-Power-Save mode which disables most background notifications, a must-have convenience that also exists in Samsung and perhaps other brands.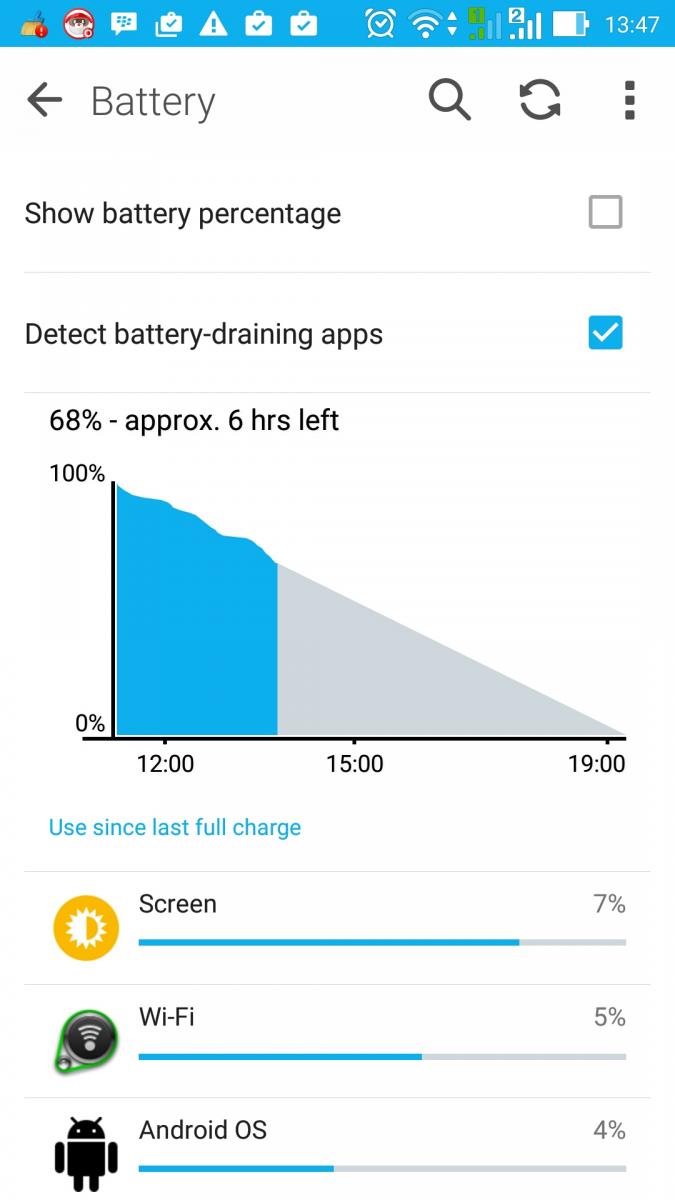 The great thing is it supports Quick Charging and the estimate is quite accurate. From 5% to full charge it requires about 1 hour.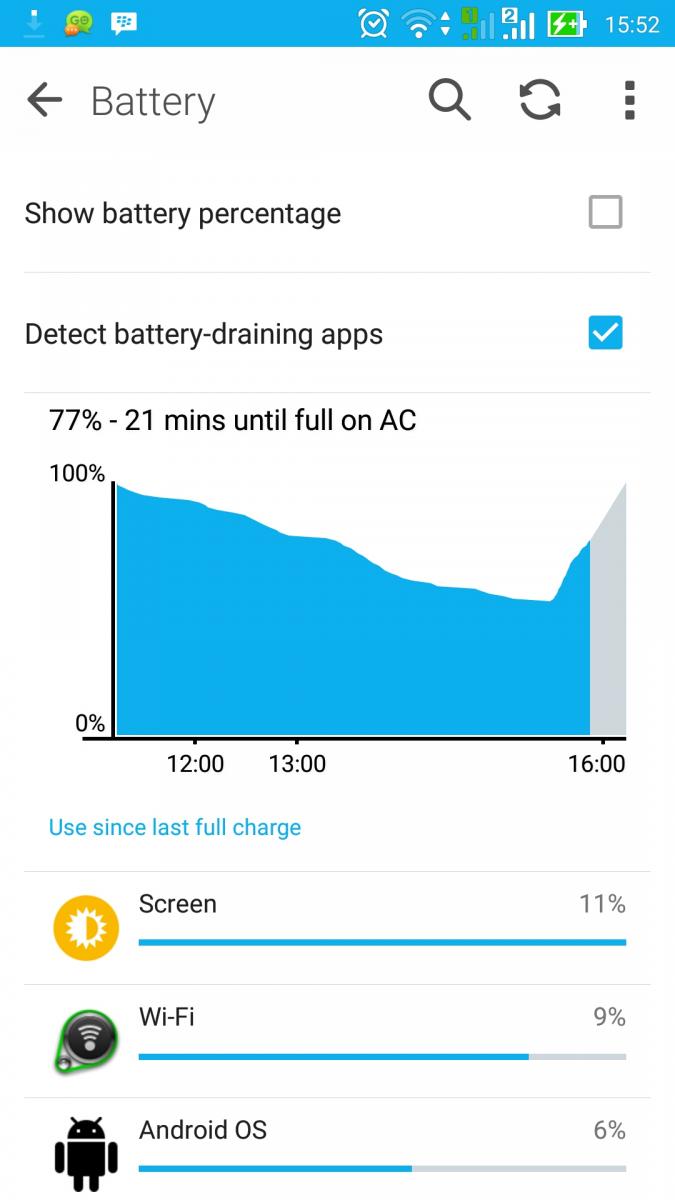 The good thing is, ASUS provides Auto-start Manager so I can disable background apps that I don't use often. I can live if these apps don't always update in real-time.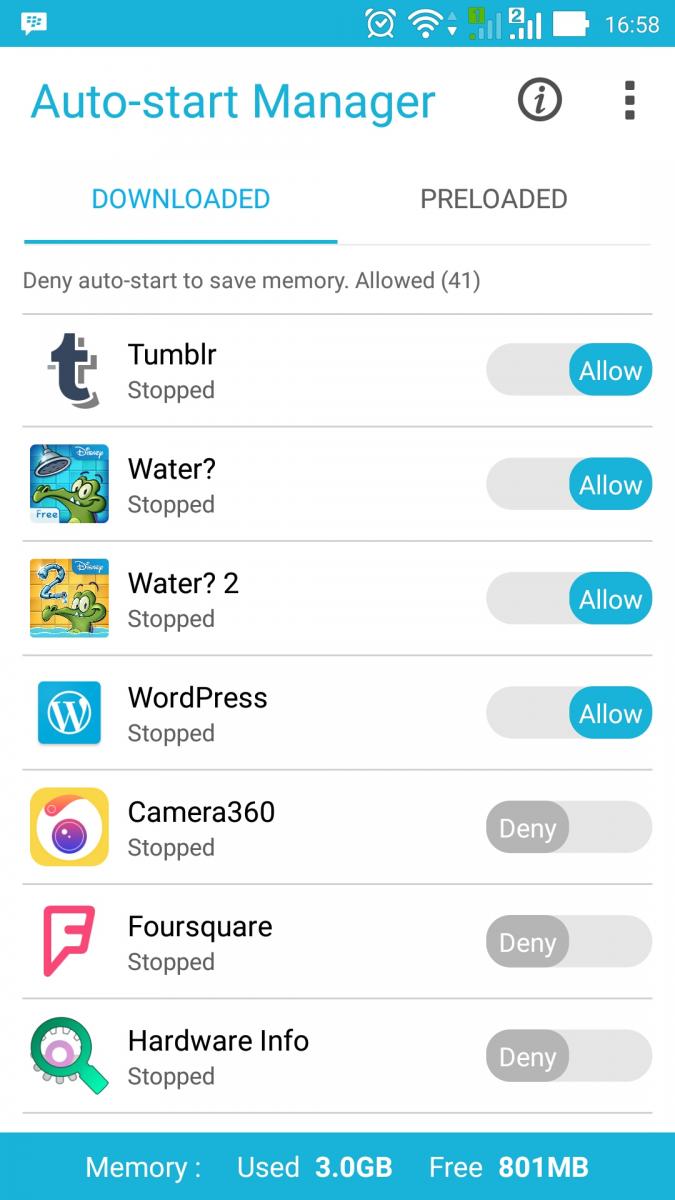 About temperature, in most light usage this phone is quite cool. However during (rapid) charging, it will get very hot. Also it gets quite hot during phone calls. And when connected to WiFi with heavy access, it does get quite hot. It's probably because of the 2.3 GHz processor getting to max speed. But so far, it's understandable.
User Interface
The ASUS ZenUI user interface is beautiful, convenient, and fast. I love it. Here we have the standard Android Lollipop notification tray: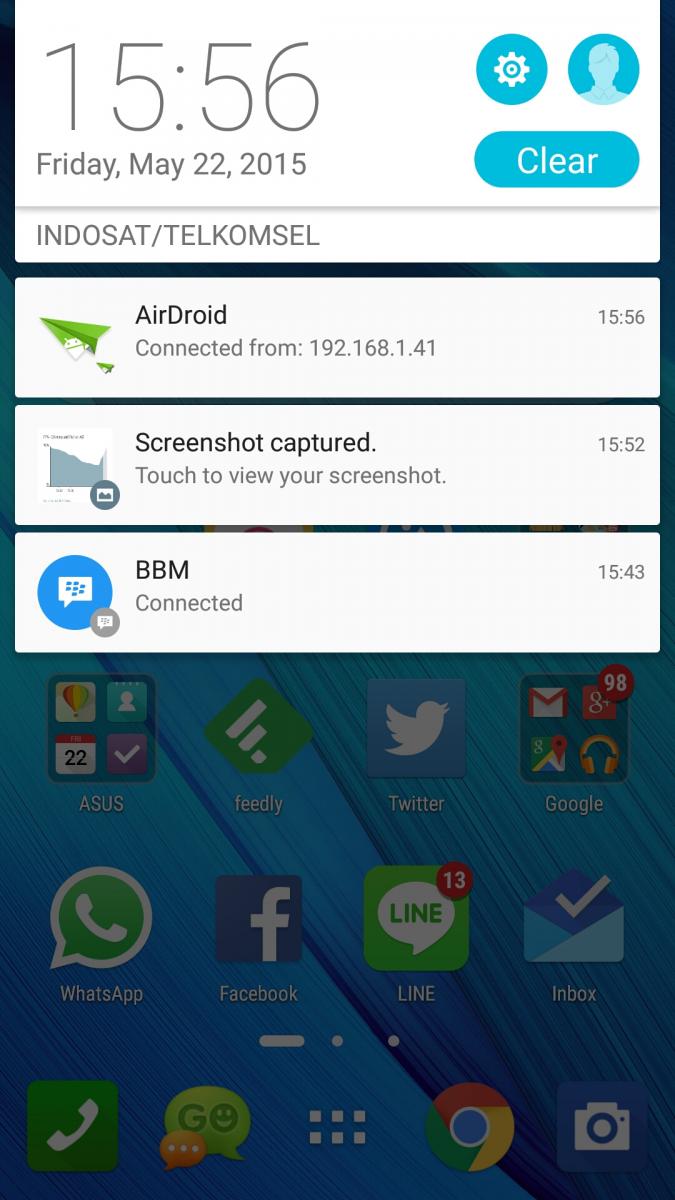 ASUS also provides quick access buttons to brightness (can be auto with slider) and other functionality, including the Splendid display setting which can change screen color style to warmer reading, or to vivid, etc. Splendid is a cool idea but I don't really use it, I just leave it at balanced.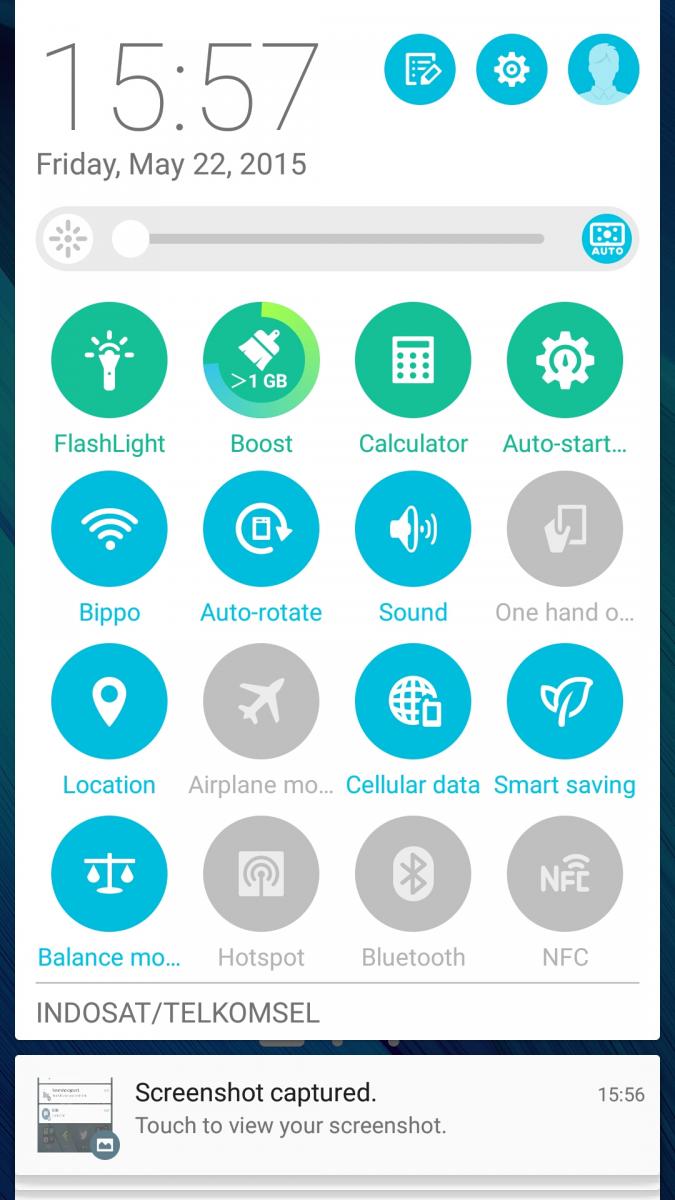 ASUS provides CleanMaster (Boost in notification area) preinstalled, which I don't know yet whether it's useful or not, but I guess it's good to know it's there if I need it and it's integrated.
ASUS provides many widgets like Weather out-of-the-box, also applications like Do It Later and SuperNote. You may call them bloatware but I think these are nice apps. And for some people these apps are just right and don't need to install a more complex app.
ASUS also provides ways to customize the look and feel of the UI, home screen, lock screen, although for this I have to say Xiaomi's MIUI is best. ASUS ZenUI themes are much fewer. The nicest thing I found is ASUS live wallpapers, which ASUS claims are battery-friendly, here I use LiveOcean live wallpaper. The ocean water level reflects the battery level, so it's pretty neat too.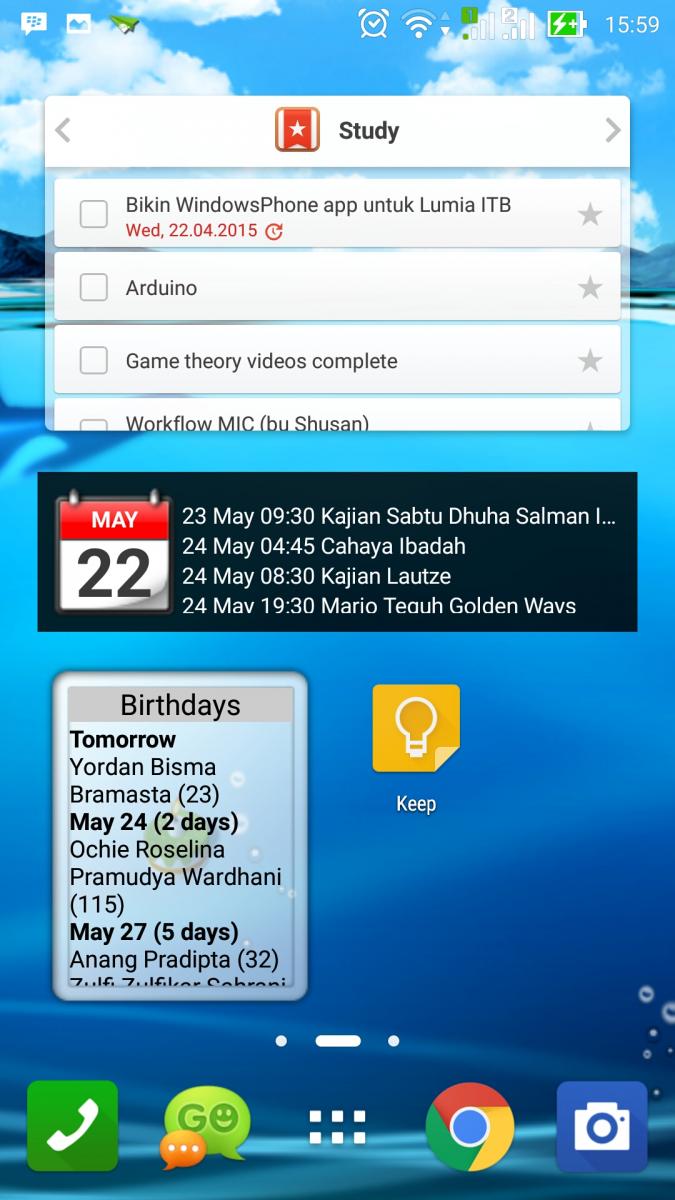 Conclusion
For my variant of the ASUS Zenfone 2 ZE551ML with 4 GB RAM, 32 GB storage, 2.3 GHz CPU, official-warranty priced at IDR 4.250.000 it's a "pretty good" phone (it'd be excellent if it was priced at IDR 3.500.000 hehe). I can definitely find a more expensive phone from Samsung but with similar specifications. But for the lower Zenfone 2 ZE550ML variant with 2 GB RAM priced at IDR 3.000.000 I think that'd be really good phone at decent pricing.
My hope now is that this phone can perform well and reliable for at least the next 3 years. I did read stories from my friends that had Asus mobile devices broken after some usage and still troublesome even after warranty repairs. I hope mine will do much better. Aamin.