How to Change Citation and Bibliography Language in Mendeley
When writing an academic paper, your university, journal, or conference, may require a particular citation or bibliography style. If you're using a reference manager such as Mendeley or Zotero, then you should have no problem changing the citation style to match your publisher's required format. However, another aspect of citation style is the citation or bibliography language, which is not always easy to conform. For example, in my university Institut Teknologi Bandung, citations must be written in a specific style/format and must be using Indonesian language. "et al." must be written as "dkk.", "and" must be written as "dan", and a few others.
If your language is already supported by the citation style that you want, then you're lucky. If not then you can edit the citation style to add the required translations, it takes some effort but it's not hard when compared to creating a citation style for a new format.
How to Change The Language of The Citation/Bibliography Style in Mendeley?
Here's the steps to do this:
Open Mendeley Desktop.
Click View > Citation Styles > More Styles…
In Citation and Bibliography Language, select your preferred language. In my case, it's "Indonesian" (Bahasa Indonesia).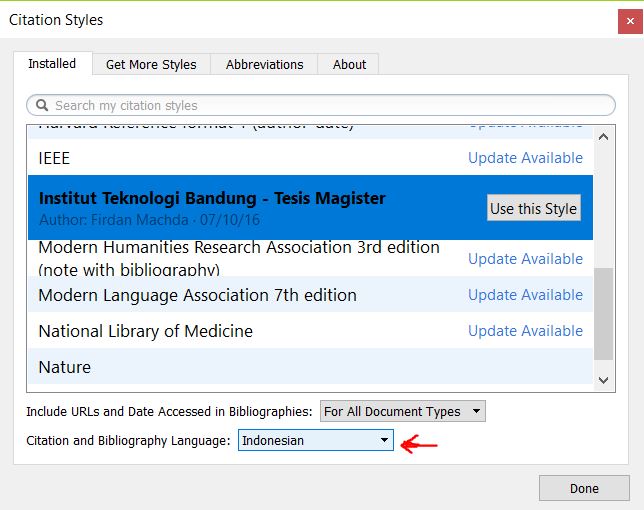 In order to test this, select any paper in your list, then press Ctrl+C or Edit > Copy. An example for one paper:
Muhari, A., Imamura, F., Koshimura, S., dan Post, J. (2011): Examination of three practical run-up models for assessing tsunami impact on highly populated areas, Natural Hazards and Earth, 11(12), 3107–3123, https://doi.org/10.5194/nhess-11-3107-2011.
It may be very minor difference, but the "dan" word in the author list is required in Indonesian language bibliography.
But if your selected citation style does not support your language, then it will still use in English. That's a problem, but there is a solution that I will share in the later part of this article.
Using the Selected Citation and Bibliography Language in Microsoft Word Paper
To use the selected Citation and Bibliography language in a paper that you're writing with Microsoft Office Word, make sure you have installed Mendeley Plug-in for Microsoft Office Word first.
Then switch to the References ribbon, and change the "Style:" to match your preferred style. If there is no effect, try changing to another style then changing it back to your preferred style. When working properly, your Word document should look like this: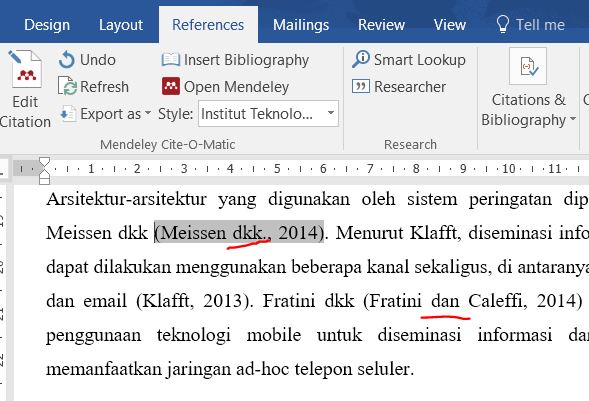 What If A Citation Style Does Not Support My Language? How to Edit the Citation Style to Support My Language?
All citation styles in Mendeley and Zotero can be edited and customized to your liking. You can create a new citation style, or you can also improve a citation style, for example to support your language. You are also welcome to submit your contributions to the official citationstyles.org project, so it will be usable by Mendeley and Zotero users all around the world.
First you'll need to locate the citation style file (called a CSL file) that you use. The files are located in "C:\Users\(username)\AppData\Local\Mendeley Ltd\Mendeley Desktop\citationStyles-1.0".
Choose the CSL file that you use, and open it in your favorite text editor (Visual Studio Code shown below).
What you'll need to find is a line containing:
<locale xml:lang="id">
"id" is for Indonesian, so replace "id" with your language's code.
Then you can translate the terms to match the terms into your language.
If you can't find it, you can use this template:
<locale xml:lang="id">
 <terms>
  <term name="editortranslator" form="short">
   <single>ed. &amp; trans.</single>
   <multiple>eds. &amp; trans.</multiple>
  </term>
  <term name="translator" form="short">
   <single>trans.</single>
   <multiple>trans.</multiple>
  </term>
  <term name="et-al">dkk.</term>
 </terms>
</locale>
Save your file and restart Mendeley Desktop to make your changes take effect.
How's your experience with Mendeley? Let me know what difficulty you get.